Talking to someone
Talking to others – in confidence – can make a difference to how we feel.  Here you will see a number of ways you can speak confidentially to someone about how you are feeling.
Support options
National Wellbeing Helpline – 0800 111 4191
A compassionate and empathic listening service for all health and social care workers.
The National Wellbeing Helpline is operated by NHS 24 on a 24/7 basis.  Trained practitioners can provide a range of support including psychological first aid , advice, signposting to helpful resources, and onward referral to local services and additional support if required.
Our Frontline – 116 123
Round the clock phone support for health and social care workers.
Our Frontline offers one-to-one telephone support from trained volunteers on a 24/7 basis (Scotland).  Our Frontline is a partnership between  the Samaritans, Mind, Shout, Hospice UK and The Royal Foundation, for more information and additional resources, you can access the Our Frontline website here  https://www.samaritans.org/scotland/how-we-can-help/workplace/our-frontline/
Breathing space 0800 83 85 87
Breathing Space provides confidential telephone support to anyone in Scotland over the age of 16 who is feeling low, anxious or depressed.  For more information you can access the Breathing Space website by clicking this link https://breathingspace.scot/
Breathing Space operating times are Weekdays: Monday-Thursday 6pm to 2am
Weekends: Friday 6pm-Monday 6am
Reflective practice can be helpful when dealing with stressful and pressurised situations as it allows space to review our practice and share lessons, which can strengthen bonds within and across the teams in which we work. Within the Psychology Staff Support service there is capacity to offer Reflective Practice sessions for Managers and Teams. Please email fife.fifestaffsupport@nhs.scot for further information
Where people feel persistently distressed and notice an impact of this distress on their day to day lives and/or relationships – it can sometimes be helpful to receive psychological therapy.
The NHS Fife Psychology Department currently has a dedicated Psychological Therapies team for staff working in health and social care.  If you feel you would benefit from receiving psychological therapy – you can self refer by completing the form below and a member of psychology staff will be in touch shortly.  All therapy is confidential.
If you feel you need more immediate support – you can access this in a number of different ways – by contacting:
To Self Refer for Psychological Therapies – Complete the form below
*Staff who work in Fife and who directly provide or enable NHS or social care services – including third sector and independent care home staff are eligible for the Staff Support Service.
Out of Area Referral Request
**If you would prefer to be offered support by an NHS support service outside of Fife – please do not complete the contact form below. Instead email fife.fifestaffsupport@nhs.scot directly, stating Out Of Area Referral in the email subject heading. Please include your name and contact telephone number. A clinical member of the Staff Support Team will then contact you directly to gather a few more basic details, discuss your suitability for an out of area referral, and to talk about next steps.  We have a reciprocal arrangement with NHS Tayside for requests for out of area support.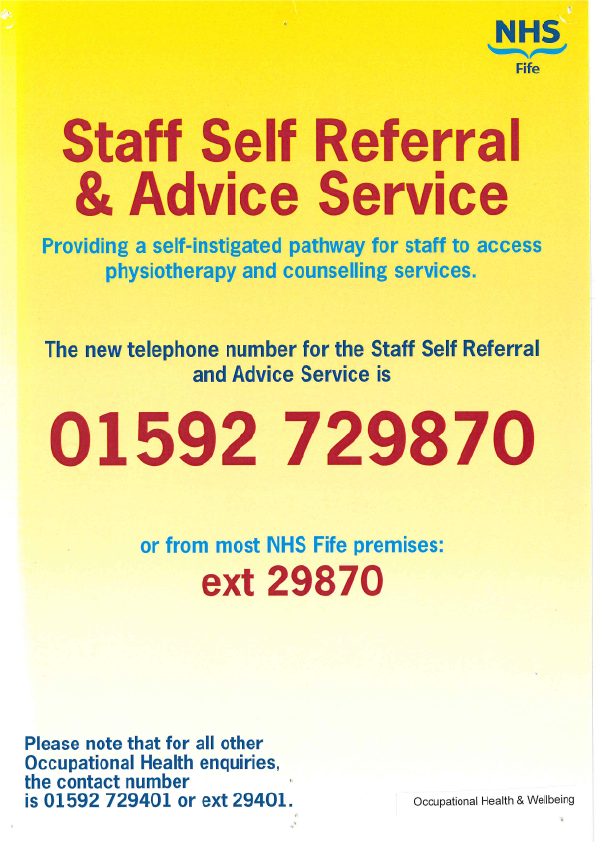 Workforce Specialist Service
The WSS, delivered by NHS Practitioner Health, is a confidential multidisciplinary mental health service with expertise in treating regulated health and social services professionals. They specialise in caring for regulated professionals as patients, and as such are experts at the interface between regulation, employment and mental illness and addiction.
Coaching for wellbeing.  Strengths-focussed wellbeing coaching for health and social care staff.
NHS Education for Scotland has partnered with Know You More – a digital coaching organisation to offer two hours of wellbeing coaching to health and social care staff.  The service is free and delivered by qualified and experienced coaches who can provide supporting building resilience, improving wellbeing and, where relevant, provide a space to explore how to lead and support others https://www.nes.scot.nhs.uk/nes-current/coaching-for-wellbeing-a-digital-coaching-service/