Back on TRAC
What is it?
Back on TRAC is a 6 week course which provides you with ways to improve mood and manage symptoms of depression. The course teaches techniques from cognitive-behavioural therapy – a psychological therapy that focuses on the relationships between thoughts (cognitions), behaviours and feelings. These have been proven to be effective in overcoming low mood.
The course will provide you with a framework for better understanding and managing low mood. This is a lecture style course delivered by our team through presentations.  It is not group therapy. You will not be asked to share your experiences or to speak in front of others, just sit back, listen and take it all in.
What does each session involve?
NHS professionals teach you evidence-based methods of dealing with low mood

You receive a FREE workbook at each session

You can bring a friend or family member with you

You will not be asked to share your personal experiences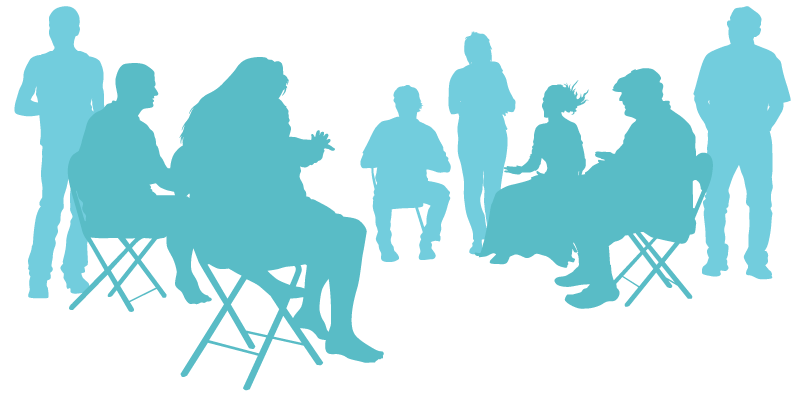 How will this help me?
Help you understand why mood can become low and what keeps this going

Teach you ways to manage low mood and feelings of anxiety plus improve your well-being

Show you how to use this learning in your day-to-day life
Course Content
For best results, try to come to every session so you don't miss any important information.  Each session is split into two parts, separated by a short break.
'What is Low Mood' looks more closely at the common signs and symptoms of low mood and the impact that this can have on us.   We look at common examples of low mood and help you begin to understand your own. This session also looks at the importance of getting a good nights sleep, the food we eat and tips for improving these areas.
'Managing Unhelpful Behaviours' looks at some of the behaviours or TRAPS that we can get caught in when we're feeling low and introduces tools that can help us to get back on TRAC.  The session also looks at how our body responds when we feel vulnerable or threatened and how this can lead us to avoid things.
'How to Manage Unhelpful Thinking' looks at the types of negative thinking patterns that arise when our mood is low, thinking TRAPs that we can fall into and a number of strategies to manage these. We also finish every session with relaxation techniques and this session is no exception.
'Rumination and Worry'. These are types of unhelpful thinking that we can often engage in when our mood is low.  This session looks at these in more detail and helpful strategies to reduce them; including thought challenging, attention training and problem solving. Reducing these thinking styles can help improve our mood.
'Assertiveness' looks at the characteristics of and the pros and cons of different communication styles and teaches techniques to increase assertiveness.  When people feel low they can often lose confidence in communicating with others. These techniques are helpful in giving you more choice about how to communicate in different situations, rather than just reacting.
'Relapse Prevention' and planning for the future.  We look at ways of maintaining progress and some additional tools that you may find helpful moving forward.  We also look at developing a relapse prevention plan, including steps you can take if you notice that your mood is beginning to lower again.
When and Where?
All courses are delivered regularly throughout the year at a range of venues across Fife.
Cupar: County Buildings, Cupar, KY15 4TA
Dunfermline: Conference Room 3, Lynebank Hospital, Halbeath Road, Dunfermline, KY11 8JW
Kirkcaldy: Templehall Community Centre, Beauly Lane, Kirkcaldy, KY2 6EX
Please see booking for dates and times.